Description
Mighty Micanopy Black History: Preserving the Local History of People of Color in Micanopy, Florida is a Black History book that focuses on the lifestyles, contributions and perseverance of people of color in Micanopy history. Mighty Micanopy Black History offers insights and history lessons from the Timucua and Seminole Native American battle for their homeland to the Jewish establishment of a safe haven in Micanopy to the emergence, emancipation and battle for personal freedom of former enslaved Black people. All people of color are FINALLY recognized and celebrated for their contributions to the progress of Micanopy, Florida.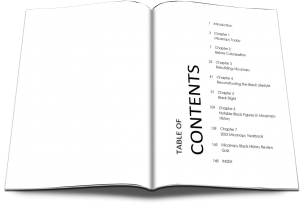 160 Pages
Mighty Micanopy Black History shares answers to the following questions:
Who set the Micanopy Town Jail on fire and why?
Why are the cemeteries still segregated in Micanopy?
How did Black children in Micanopy feel about integration?
What are the top 3 lies being taught to Black children in Micanopy?
Who was the only free Black woman in Alachua County following the Second Seminole War?
Which Micanopy Marshal terrorized the entire community?
What led to the creation of Jim Crow Laws in Florida?
How did Black families build their homes in the early 20th century?
Which Micanopy Town Council initiative led to armed guards being requested to keep the peace during Council meetings?
Why were the Seminole people attacking white settlers?
What was the name of the first Black neighborhood in Micanopy?
Chapter 1
Micanopy TODAY – Detailed descriptions of the current status of the town of Micanopy as well as current attitudes around politics and race relations from the perspective of Black residents of Micanopy.
Chapter 2
Before Colonization – History lesson on life in North Central Florida before the American Patriots ravaged the land and forced the Natives out.
Chapter 3
Re-Building Micanopy – Chronicling the growth of the town's population and economy after it was ravaged by the Second Seminole War
Chapter 4
Reconstructing the Black Lifestyle – Following the emancipation of Black enslaved persons, how did freed men and women restructure their lives in Micanopy.
Chapter 5
Black Flight – Original stories of lifestyle progress made by the Black population of Micanopy through systematic racial oppression including segregation/integration. Includes a detailed ORIGINAL account of work life at Franklin Crate & Basket Mill and a TRUE CRIME report from Micanopy Black History.
Chapter 6
Notable Black Figures – Original profiles of the Black faces who made Black history in Micanopy.
Chapter 7
2023 Black Micanopy Yearbook – Historical Superlatives and a comprehensive list of all current Black Micanopy residents.