Mattie Lou Sutton Harris
Mattie Lou Sutton Harris was born in Micanopy at home, delivered by a mid-wife. The year was 1941, the same year as the Attack on Pearl Harbor and the birth of the Civil Rights Movement. During one of the most turbulent periods in history, Mattie, also known as 'Bay,' proved to be a calming spirit for the people of Micanopy.
According to Mattie's daughter Lucretia Mitchell, Mattie was a quiet woman who kept to herself, most of the time. Her bright personality was triggered whenever she ran into a community member and many came to know her as the amazing spirit who played the guitar.
But to Lucretia, Mattie was just Mama. Lucretia and her brother Joe Harris were raised by Mattie, Mattie's mother, Lillie Sutton, and her aunt, Carrie Lee Sutton. They all lived in a 3 bedroom wooden house on NE 6th street, which the town of Micanopy later renamed Bay Street in honor of Mattie.
Mattie loved to cook and she passed on those skills to Lucretia. Lucretia remembers that her daily responsibility was to listen for the end of day whistle from Franklin Crate Mills so that she could hurry and prepare dinner by the time Mattie came home from work. Lillie Mae, Lucretia's grandmother, taught her how to make cornbread the old fashioned way, by scrambling the cornbread with special ingredients in a cast iron pan over the wood stove.
Mattie Lou kept chickens in the yard that she raised. She collected their eggs daily and took care of rabbits and all sorts of little animals that she loved as her pets. One of her favorite ways to pass time was to load a barrel with trash and wood and set it on fire while the family all sat around to talk and smoke out the mosquitoes.
Mattie Lou worked as a forklift operator at Franklin Crates Mill for 30 years, retiring at 62. Even then, Lucretia remembers that Mattie Lou would find different ways to help people. She was proud to go downtown and clean people's houses. She even maintained people's lawns.
When Mattie wasn't working and spending time with her family, she really enjoyed the fact that the Café Society Juke Joint was just up the street from her house. Author Kevin McCarthy was so fascinated by Mattie's stories of fun at the Juke Joint that he mentioned it in his book- Micanopy, Florida: An Illustrated History.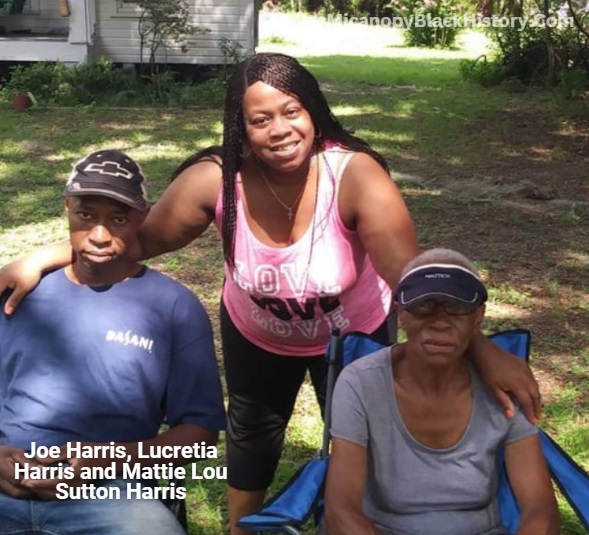 Mattie Lou was a very popular character in Micanopy history, so much so that when there was a parade in Micanopy like the Micanopy Fall Festival Parade, she was always in the parade – riding her bicycle. When she knew a parade was forthcoming, she would get her outfit together; all red, white and blue. She would decorate her bicycle and put a cap on her head to complete her look.
Mattie was a people person; she got along well with everyone. She was a generous giver but most people remember her for her charm and music. She played the guitar, the organ and the piano, but her favorite was the guitar.
There is hardly a person who lived in Micanopy who can't remember a time when they took a stroll to Mattie's house on a Saturday or Sunday to talk to her and listen to her play the guitar.
Mattie Lou Sutton Harris passed away on a Wednesday in August 2020 at home with her daughter, Lucretia. She was buried in Haynes Memorial Cemetery where her family was buried.